By Diana Saenger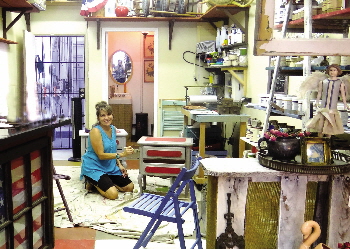 Janine Rego and two other artists recently pooled their talents and love of vintage items to open the Thank You Dear Heart Vintage Shop on Main Street in El Cajon. The artists are also members of The Local Mercantile Shop, the big red barn on East Main and Los Coaches Road, and decided to open a place where Rego could do workshops with her chalk-based paint, one of the latest decorating trends.

"I started doing workshops over there in the patio, but at night or when it rains I couldn't have workshops," Rego said. "At first this store scared me as I only wanted a workshop, but when my friends, Dave and Pam Nutt, Marilyn Petersen, Dana Andersen and Carole Matteson chimed in, 'let's do this together;' it came to be."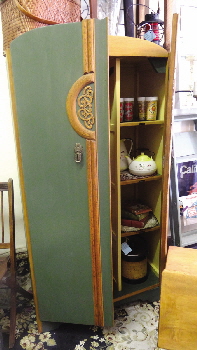 It was about six years ago when Rego, who loved antiques and vintage things, started buying things at different venues and occasionally selling something on Craig's List and flea markets.

Her business grew, especially with the items she would re-create with the chalk paint. A little touch up here or a complete redo on a piece of furniture and Rego realized, "Hey, I can do this."

Rego and her husband Mike are always looking for new items. They have a grown son and daughter, who like to keep a look out for treasures for mom's shop. Rego chose the name for her shop because, "I've said that to people all of my life."

"Mike has a good eye for picking up items and turning them into terrific pieces like shelves or doors that sell rather quickly," Rego said. "There are many people who have garages full of items to get refurbished or refinished. We're open three days here, but people can usually find me the other days at the Mercantile."


The store has vintage and antique items of all different kinds from beer bottles to baby items; unique older window and door frames creatively redone, cabinets, porcelain and collectible dishes, a former accessory cabinet redone by Mike, window framed art and many other unique items.

Rego is often asked the difference between Vintage and Antique but says it's mostly in the eye of the beholder. Some sources insist that an antique must be at least 100 years old, while a vintage item can be from virtually any decade or era. A 100-year-old couch might be described as antique furniture, but an Art Deco couch from the 1930s would be considered vintage. One difference between vintage and antique appears to be the perceived relevance of the item. A horse-drawn wagon from the 1880s would be considered an antique, since it exists primarily as a relic of a bygone era. A restored 1957 Chevrolet convertible would most likely be described as a vintage car, since it is evocative of a specific era and still has a considerable number of collectors today.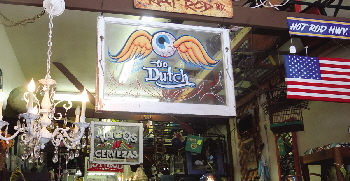 "The customers we attract are different according to our partners," Rego said. "Dana is very colorful, French romantic, country, which some call shabby schick, but its's pretty in pink and purple and lace and sells very well. Marilyn has a lot of antiques. Carol is really into country. Dave and Pam find the most interesting collectables and sell the most items; with many asking "what is it and where did you get it?" My stuff is all over the place because I'm really into the painting. I use paint that's chemical free paint from the American Paint Company because they offer an all-natural, zero VOC, eco-friendly, and solvent free paint and finishes. I recently earned the # 10 spot on best sales from the company and they are putting in a full page ad in Flea Market Design magazine of their top ten sellers."

Because her shop is right in the middle of where the weekly car show takes place, Rego also consigns to car drivers who bring in items to sell; like Mark Lueck, known locally for his art and pin striping of cars, who does the framed window art. Rego is eager to meet new customers who love what they have in their shop.
Thank You Dear Heart Vintage Shop
162 E. Main St, El Cajon,
(619) 454-1275
open Wednesday – Saturday 11 a.m. – 5 p.m.
check them out on Facebook at https://www.facebook.com/pages/Thank-You-Dear-Heart/278337232254848