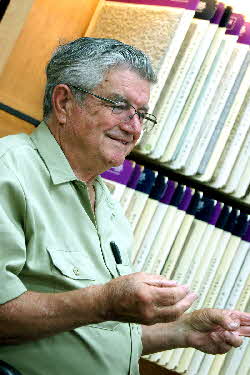 Village Carpets is a family owned business still going after 20 years. George Wood, who along with his wife, Pat, purchased the business in 1991, said partnering with Flooring America in 2004, knowing when to move a business, and keeping family members involved are some of the reasons Village Carpets is still thriving today.
"We're also very competitive, have high-quality products and focus on good customer service," George Wood said. "If a customer feels something isn't right, we'll work with them to get it right."
Since purchasing the business in 1991 Village Carpets has relocated several times. Their new location at Magnolia in El Cajon is spacious, well-stocked, attractive, functional and comfortable for customers. The full service store offers several brands of carpeting, wood, ceramic, laminate, tile and other floorings, window and door coverings and blinds, granite counter tops and more. Their collections come from some of the top companies in flooring including Design Distinctions, Stainmaster, Bedford Mills, Gibraltar, Heatherfield – Berber, Floorcraft and Hearth & Home.
Wood, though always keeping and eye on the business, has turned over ownership to his son Randy. Wood's grandson Sean Julian runs the warehouse and is a licensed contractor who handles installations. Wood's daughter Jolene Julian handles the bookkeeping and business duties, and her husband Tom, along with Ed Meyer work in sales. Wood's granddaughter Kim manages the store.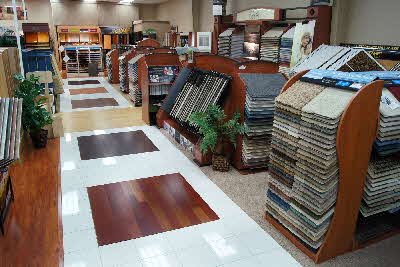 "I graduated from college in 2004 with a degree in PR, and started working in my grandparent's store answering phones," Kim Julian said. "Then I became manager of the Alpine store and now here. I love working in a family business and serving our customers."
The 4,000 sq. ft Village Carpets showroom with its tranquil water fountain and statuesque Charlie Chaplain keeping an eye on customers is a symbol of the quality and workmanship of this family business.
"We have some of the best installers in the business in carpet, flooring, tile and granite counter tops," Wood said. "Hugo Jimenez, Jarrett Bergens and Kevin Fairweather are all experts in their field."
As a former owner of other businesses, including at one time Mulvaney's restaurant in Santee, Wood has made many business decisions. The one to partner with Flooring America has been a wise one he said. Every store in the 500-plus Flooring America cooperative is family owned and operated.
"Customer satisfaction is important to us," Wood said. "With Flooring America we have nationwide buying power that allows us to offer lower prices on thousands of carpets and floorings. They have experts trained in flooring and design and offer us training seminars and instructional classes. Their Performance Assurance Program of warranties is one of the strongest warranty programs in the industry."
The Home Imagination Program allows customers to play with colors, designs and product choices to see how they would look in their house. Village Carpets offers financing with one year of no payments and no interest. "We also offer price matching and lifetime installation guarantees," Wood said. "If someone needs their carpet re-stretched all they have to do is call us."
Along with many awards that flank their walls in the store, Village Carpets has also been recognized for their contributions to community including the East County Posse (http://www.eastcountyposse.com), a nonprofit with a mission to improve the lives of fellow East County residents in desperate need of help.
"We've helped them with some of their needs and other companies from time to time," Julian said. "I grew up in a family of eight, and my parents and grandparents always taught us good ethics and to treat people right. It's worked very well for our company."
Village Carpets business hours are Monday-Friday 9 a.m. – 6 p.m., Saturday 10 a.m. – 4 p.m. or by appointment. Call (619) 401-6472, or visit their website at http://www.villagecarpetsinc.com where different sales specials are featured.