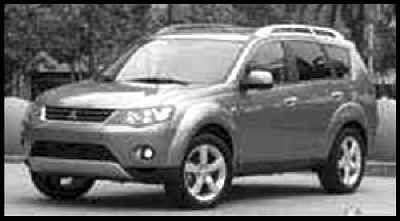 2011 Mitsubishi Outlander S 3.0 GT. Photo credit: Dave Stall
With the market flooded with small SUV's, the manufacturers are looking for ways to get customers to come to their showrooms. This week, I am driving a 2011 Mitsubishi Outlander S 3.0 GT S-AWC. It is a nice model that has many features and a price tag under $30,000. What is interesting, though, is how Mitsubishi is trying to make an impression by breaking records, and not just any records but the Guinness Book of Records.
First: The greatest distance by a vehicle in reverse on snow in 30 seconds in a Outlander Sport.

Second: The shortest braking distance by a vehicle on ice (30 mph to 0 mph) in a Outlander Sport.

Third: The most vehicle figure-of-eights on ice in two minutes and three laps in an Outlander.

Fourth: The fastest vehicle slalom relay on ice (1/4 mile) in a Outlander & Outlander Sport.

Fifth: The last record broken was the fastest driven square lap in a vehicle (gravel, 100 ft. x 100 ft.) in an Outlander.
Besides the records, this is a great family hauler, getting a fuel mileage rating of 19 mpg city and 25 mpg freeway with a combined mileage of 21 mpg. There is one issue with the mileage the EPA has given this Outlander, I got much higher mileage on highway and combined. The Outlander is good for families, the surfaces are kid friendly — easy to clean and plenty of storage.
Outlanders come well equipped: Hands Free Link System, All-Wheel Drive, Active Front Differential, Tarmac, Snow and Lock, Aluminum Roof panels, flap folding tailgate and service reminder system — I love this feature. There are many more features available. Stop by a local dealer or "build you own" Outlander on www.mitsubishicars.com
The Outlander also has a smaller engine — a 2.4-liter 4-cylinder that will get 23 mpg city and 28 mpg freeway. Make the decision on engine choice after test driving both.
When it comes to transmission there are two choices depending on the engine choice. Drivers can opt for a CVT Sportronic or a six-speed Sportronic® with Idle-Neutral Logic.
Check out the warranty, 5-year 60,000 mile bumper to bumper, 10-year 100,000 Powertrain Warranty, 7-year 100,000 rust perforation warranty and 5-year Unlimited Mileage Roadside Assistance!