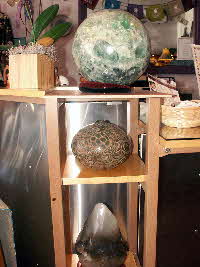 Walking into a business one rarely experiences a peaceful harmony and pleasant atmosphere. That's exactly the feeling that keeps customers of Home & Soul in El Cajon returning again and again. Perhaps some of this is attributed to the statue called Qigoug – which is the Chinese philosophy and practice of aligning breath, physical activity and awareness for mental, spiritual and corporeal health, as well as the development of human potential.

"It's like no other store I've found," said Christina Foster, a returning customer of 10 years. "I love the spiritual products and that there are some for all religions. I'm also hooked on the massages and psychic readings."

Theresa Favro has owned the building her store occupies for 10 years. Before Home & Soul she owned a candle shop and ladies resell shop. "Our inventory is very eclectic" she said. "We have a lot of some things like crystals, rocks, incense and teas. But we also carry other gift items and unique one-of-a-kind type things.

Lovely jewelry hangs from several spots around the large room. Crystal balls and ornate stones the size of bowling balls impress with their subtle uniqueness. Wall hangings make substantial statements perfect for home or office.
There are greeting cards, tunics, and everything from stone crosses to unique metal ornaments. Occasionally there's a sidewalk special and once a month Home & Soul has an open house with different specials featured. The next open house is July 16.

"There's a reason myself and others wonder in here," said Joyce Eccher.

There's gentleness about Favro that resonates right along side her business aplomb that's evident by her long existence on Main Street in El Cajon. To offer complete physical and spiritual wellness, Favro rents out rooms for other business-related services.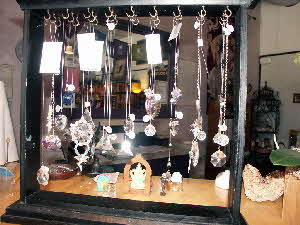 Rev. Beatrice has assisted people for more than 25 years. A natural born psychic, teacher, clinical hypnotist and Theta Healer Teacher, she combines tools like the Tarot card and channeling Spirit in her personal readings of past, present and future. Beatrice works to change subconscious programs and empower one's life.

Jerri Carroll's goal is to bridge the gap between animal and human worlds: to facilitate understanding, healing, and harmony in our interspecies relationships. This silent communication is accomplished by connecting telepathically with an animal.

Other service providers include massage therapists Pam Milian and Jessica Olguin, chiropractic/energy healing by Joseph Cobbs, tarot readings by T. L. Orcutt and Astrology by Deidre Raven.
Favro oversees the shop and her service operators always with customer satisfaction in mind.
"Our goal is to make our customers feel better when they leave than when they arrived," Favro said.

Home & Soul
229 E. Main St., El Cajon
(619) 440-4504.
Hours:
Mon – Fri 11 a.m.– 6 p.m.
Sat 11 a.m. – 5 p.m.

Photos by Diana Saenger